1963 Adaptation
The first movie adaptation of Lord of the Flies was made in 1963. It was directed by Peter Brook, and produced by Lewis M. Allen. It is generally known to resemble the book much more than the 1990 adaptation. The 1963 adaptation is in black and white. The movie was shot in the island of Vieques in Puerto Rico. The song "Kyrie Eleison" which means "Lord, have Mercy" is sung in scenes of the film.
Cast:
1990 Adaptation
The 1990 adaptation, although based on Lord of the Flies, has many differences to the book. It was directed by Harry Hook and produced by Lewis M. Allen. The boys are all military school cadets, for example. Another difference is the presence of glowsticks as well as an adult on the island with the boys. The movie was rated 61% on Rotten Tomatoes.
Cast: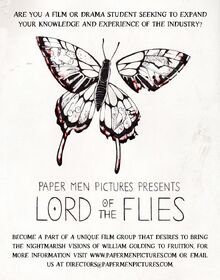 Ad blocker interference detected!
Wikia is a free-to-use site that makes money from advertising. We have a modified experience for viewers using ad blockers

Wikia is not accessible if you've made further modifications. Remove the custom ad blocker rule(s) and the page will load as expected.